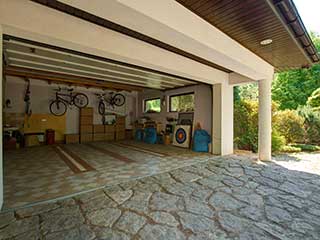 Our many years' worth of experience in the industry have made our company become known as the best service provider in Illinois. We've worked very hard to get where we are today, and among the many reasons for our success, guaranteeing every customer's satisfaction was, and still is, a major one.
New System Installations
Having an automated garage door is not only very convenient, it also offers a high level of personal safety and security. As far as convenience goes, automation really comes in handy during those dark and stormy nights. The only thing you're thinking of is getting inside your home and relaxing with a warm drink. The last thing you want to do is execute a mad dash from your car to your garage in order to manually open it. Save that energy for making the perfect hot chocolate cup, and call us instead! Our expert technicians can install an opener that will automate your system's operation and simplify it down to the push of a button.
Expert Spring Service
An inexperienced person should ever attempt to deal with any garage door spring issue by themselves. These components are responsible for opening and closing your system's heavy door and because of the extreme tension involved in their operation should therefore only be handled by trained professionals. Our expert technicians can replace both torsion and extension springs.
We Also Fix Openers
The opener plays a vital role in ensuring that you get the convenience you're paying for. At just the touch of a button, you can go from manually opening and closing your door, to having it done for you. You usually don't actually realize how much you have come to depend on this little device until it breaks. We want to ensure that you never have to even think of opening your garage door by hand again. We repair and replace a wide variety of openers, including every well-known brand.
A Company That Cares
We love engaging with all of our clients. It's great to receive any type of feedback as it encourages us to improve our service based on what our customers need or want. Feel free to reach out to our Garage Door Repair Highland Park team if you're unsure about anything, or if you need any additional information.
Call Us Today:
Highly Skilled Technicians