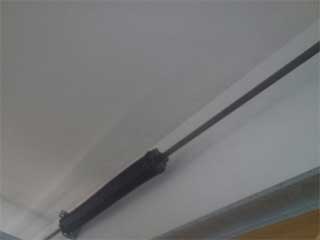 When a spring breaks, it can go flying, and will potentially damage anyone or anything unfortunate enough to stand in its path. That's why routine inspection and timely replacement is incredibly important when it comes to these hardworking components.
Maintenance Will Help You Avoid the Risks
An increase in longevity and the prevention of potential dangers are two of the many different benefits of getting your garage door springs regularly maintained by professional technicians. By having our experts closely examine these crucial components, you're effectively reducing the risk of a break down. Our team will lubricate them properly – which will ensure their efficient operation – and will replace them if they've become too damaged from gradual wear and tear.
Upgrading Your Parts
If your garage door is still operating with ancient extension springs, you should really consider getting an upgrade. The benefits afforded by today's torsion spring options are almost too many to count. They're much safer, for once, due the twisting and unwinding nature of their operation, which prevents them from whipping around if they unexpectedly break. They're also much stronger as well, which means they'll suffer from far less wear and tear damage. Another great benefit is that many modern options come with corrosion-resistant coating, which means they'll be far less likely to develop rust.
Timely Replacement is Crucial
As we mentioned earlier, when springs break they pose a risk to both yourself and your family member, and to your property as well. Aside from damaging your car or any of your stored belongings, they can actually end up damaging the rest of your garage door system when they break. The panels will tilt, or even collapse altogether, and a great deal of different components – the opener motors, the safety cables, the safety sensors and the panels themselves, to name a few – could suffer as a result.
Never Try to Handle the Problem Alone
Springs are incredibly dangerous to handle without the proper training. If you find yourself in need of professional assistance of any kind, be sure to contact our experts at Garage Door Repair Highland Park. We can take care of everything.
We also offer the following:
Garage Door Safety Inspections
Opener Sensor Repair & Replacement
Oil Tempered Torsion Springs
Emergency Garage Door Services