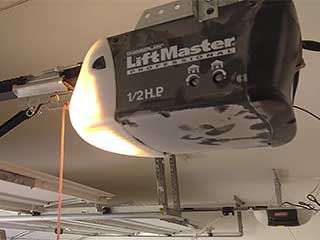 Many electric garage door owners know all too well that openers can suffer several problems. From sensors misalignment to the need to reset their travel and force limits, opener related issues can keep your door from closing or opening properly.
What Can I Do?
Needless to say, opener related problems can be extremely inconvenient, which is the opposite of why many homeowners decide to get an opener in the first place. While repairing a malfunctioning unit is something you shouldn't try to do by yourself, learning what the problem is can be beneficial. How do I do that? you may ask. Well, the best way to find the root of a problem is by troubleshooting it. That means following a few steps that will help you check for all the potential culprits.
Issues With Power Supply
Even if you are certain that there is power in your house, make sure that your opener is properly supplied. There should be a green light either on the unit itself or on its wall mounted control panel. You should also check that the opener unit is plugged into the outlet and there is no problem either with its electrical cable. Do not try to disconnect or tamper with any part that looks either broken, frayed or otherwise damaged. Remember - electricity is incredibly dangerous.
Accidentally Engaged Features
The next thing you can do is to check whether the lock feature is engaged. Many openers have this option, as it allows homeowners to not require putting an actual physical lock on their garage door. In some models, this feature is engaged from the control panel and will void the function of any remote until it is disengaged. It can usually be identified if one of the opener's green lights is blinking.
Check The Safety Sensors
If your door's photo-electric eyes get hit by a car or a bicycle, they can become misaligned, which will prevent them from properly detecting an obstacle. The best way to test this is to place an object in the door's path and then try and close it using the opener. If your door closes all the way and hits the object, then something is definitely wrong with your safety sensors. If their lenses are scratched, they might need to be replaced. These components need to be carefully aligned, so your safest bet is to contact our specialists.
Check The Remote's Batteries
Last but not least, is something a surprising amount of people tend to neglect to check. The battery of the remote could have died. More often than not, people simply forget to replace them in a timely fashion. While this may seem like an annoyance, trust us when we say that this is the easiest problem to fix, so you'd be lucky if this was the only thing wrong. The solution, as you can guess, is replacing the batteries with ones that you know for certain are good.
Seek Professional Assistance
If none of the aforementioned suggestions help you find the culprit, something inside your opener unit could have gone wrong. Damaged motor gears, or a fried circuit board are the types of problems that should only be handled by professional technicians. Contact our experts at Garage Door Repair Highland Park today.