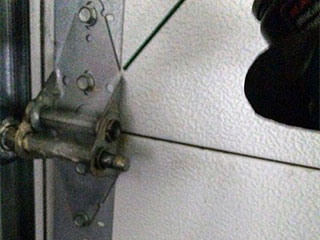 Most garages are attached to the houses and, therefore, loud noises coming from the garage door may be disturbing. Modern day systems don't usually make a lot of noise - aside from perhaps ones that operate via a chain-drive opener - but a few potential malfunctions that aren't handled correctly could result in a squeaky or otherwise noisy garage door. There are some ways for you to prevent, or at least treat, these issues.
Check The Rollers and Hinges
These are very often the culprits involved in any squeaking or grinding incidents. If you start hearing these noises, examine these components to see if any of the rollers have worn out or if the hinges have rusted. Sometimes, the excessive noise can come from a few loose screws or bolts, and it will only take a couple of tightening efforts with a screwdriver to make it go away. If your garage door rollers or hinges prove to need replacement, you should contact us to have our experts perform the procedure for you. These types of services should only be performed by professional technicians.
Opener Related Issues
If you have a chain drive garage door opener, the noise can be coming from the chain. If it is loose, it could make a terrible clicking and rattling sounds that can be very frustrating to hear each time the door is opened or closed. Making sure the chain is properly lubricated and well adjusted is key when it comes to ensuring not only it's (relatively) silent operation, but also it's performance. Contact our team to have it undergo some crucial maintenance.
Lubricate The Relevant Parts
One of the most common reasons a garage door starts making a lot of noise is the lack of proper lubrication. The springs, rollers, ball bearings and a few other moving parts of your garage door need proper lubrication maintenance in order to keep functioning smoothly and safely. If you're uncertain as to how to perform this task, or simply lack the time to invest in it, our technicians will be more than happy to help.
Regular Maintenance Is Key
While it's usually possible to get rid of these types of noises when they appear, it's much better to prevent them from occurring at all. Not only for the sake of convenience. Noise can sometimes represent an underlying problem that needs to be addressed, and more than likely some costly repairs will be involved. However, if you make sure your garage door and all of its parts undergo routine maintenance, you'll be able to avoid the majority of problems and save money on future repairs in the process.
Call our experts at Garage Door Repair Highland Park today to schedule an appointment.